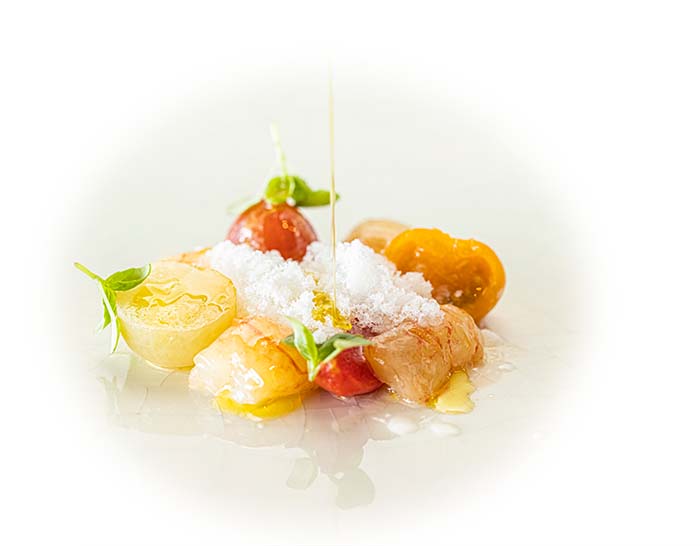 Agli Amici
Rovinj (HR)
The Istrian home of the Scarello family
The restaurant led by chef Emanuele Scarello brings the Michelin-starred cuisine of Agli Amici from Godia to Rovinj, to offer its guests a unique and unforgettable gastronomic experience.
Officially opened on June 22, 2021, and awarded its first Michelin star in less than 3 months. Among the reasons for the recognition, it was praised for "never taking anything for granted and always looking for new ideas to enhance the best ingredients of the region."
Agli Amici Rovinj is born out of a close partnership with the Maistra Hospitality Group (which, with Maistra Collection, owns three 5-star hotels in the city of Rovinj alone) and is located in the beautiful space between the Grand Park Hotel Rovinj and the Marina. It boasts a scenic terrace directly overlooking the sea.
Emanuele Scarello has approached the cuisine in Rovinj following the same guidelines that have always characterized his philosophy.
At the core of the gastronomic offering is a respect for the territory and its producers. The chef, along with his long-time sous-chef Lorenzo Lai, who closely oversees the kitchen in Rovinj, has selected a range of small-scale cultivators, artisans, farmers, and fishermen who can provide him with the best of local production, while also prioritizing economic and environmental sustainability. In Rovinj, there is no à la carte menu, but instead, three tasting menus, each dedicated to a stage of the journey of Agli Amici, from Godia, to Istria, and finally to Rovinj. These are the names of the menus through which Emanuele Scarello and deputy chef Lorenzo Lai tell the story of their home territory, Friuli, Italy, the history of Godia, the Istrian region, and its finest products, as well as the reality of Rovinj.
Book your table in Rovinj
Lungomare Plaza / front of Grand Park Hotel Rovinj – Marina
Šetalište Vijeca Europe 1-2, 52210, Rovinj, Croatia
opening time:
Thursday and Friday from 19:00 to 00:00 (last table reservation at 21:00)
Saturday from 12:00 to 24:00 (last table reservation for lunch at 14:30, dinner at 21:00)
Sundays from 12:00 (last table reservation is at 14:30).
Closed: Monday, Tuesday and Wednesday.
Ph: +385 (52) 642084
e-mail: [email protected]
Agli Amici 1887
via Liguria, 252
33100 Udine
©2023 Agli Amici 1887. All Rights Reserved. [p.i. IT01049700303] – site credits  Luckydesign / images iKon